Explore Israel with Petra Extension: Monday, April 17th – Thursday, April 27th, 2023
Petra Extension: Additional $1,850 per person (includes roundtrip flights from Tel Aviv to Eilat)
A non-refundable deposit of $1,000 is needed in order to reserve your spot.
Please also complete this form to help us prepare for an amazing experience.
—ITINERARY—
I am working closely with a tour operator as we finalize all of our trip details. While elements of this itinerary may change, the character of our experience is well represented here. This is a bespoke itinerary, built specifically for Congregation Or Tzion. Don't hesitate to reach out with comments and questions. I hope you find the experiences described here as exciting as I do!
–Rabbi Green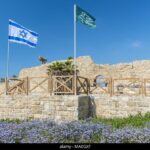 Monday April 17 – Ben Gurion Airport / Caesarea / Haifa / Mitzpe Hayamim
Arrival at Ben Gurion Airport. Connect with Israeli trip staff. Head north to Caesarea, once the Roman capital of the region. See the Roman Aqueduct and enjoy a welcome brunch and blessing for the start of this special journey. Proceed to Haifa for a panoramic view overlooking the Bahai Gardens from Mt. Carmel. Participate in Israeli Yom HaShoah ceremony. Dinner and overnight at Mitzpeh Hayamim Spa Hotel.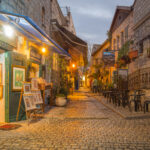 Tuesday April 18 – Rosh Hanikra / Tzfat
Drive to Mt. Meron for a moment of gratitude at the spiritual shrine of Rabbi Shimon bar Yochai, the 2nd Century sage credited with the authorship of the Zohar. Continue to Rosh Hanikra by the Lebanon border and descend by cable car into the limestone grottoes. Pause for the 10:00am 2-minute siren honoring the Holocaust victims on Yom HaShoah. Enjoy a special culinary experience and lunch at a boutique winery and cheese farm. Then head to Tzfat, center of Kabbalah movement; visit the Joseph Caro and the Ha' Ari synagogues, the most important synagogues in the city; stroll around the Artists' quarter. Hear from Rabbi Green about why this is his favorite palace in all Israel. Dinner and overnight at Mitzpeh Hayamim Spa Hotel.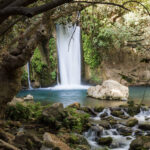 Wednesday April 19 – Golan / Jerusalem
Enjoy a Jeep tour of Golan Heights, visiting observation points overlooking Syrian territory. Participate in an interactive Tikkun Olam experience with Leket Israel, Israel's National Foodbank. Visit a kibbutz for lunch and learn about kibbutz history, life, and community. Ascend to Jerusalem. Overnight at Inbal Hotel in Jerusalem.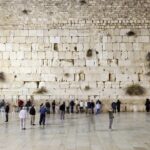 Thursday April 20 – Jerusalem: The Old City
Visit the Davidson Center and pray together at the Southern Wall of the Temple Mount. Visit the Kotel plaza, and place a note in the Western Wall. Ascend to the Temple Mount and walk beside the Dome of the Rock. Tour the Kotel Tunnels. Walk along the Cardo, the ancient Roman road. See the Church of the Holy Sepulchre and the Christian Quarter. Enjoy the Machane Yehudah Market nightlife scene with great restaurants, artwork, and more. Overnight at Inbal Hotel in Jerusalem.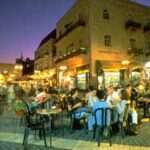 Friday April 21 – Jerusalem: The New City
Tour Yad Vashem, Israel's premier Holocaust museum and memorial, and Har Herzl, Israel's state and military cemetery. See the bustle of the pre-Shabbat Machane Yehudah Market (very different from the night scene). Prepare for Shabbat. Enjoy a sunset stroll along the Old City walls to the Kotel as we bring in Shabbat. Shabbat dinner and overnight at the Inbal Hotel in Jerusalem.

Shabbat April 22 – Jerusalem at Rest
Wake early to join one of many local synagogue options, or sleep in and enjoy the spirit of Shabbat rest. Enjoy Shabbat meals at the hotel and explore at your leisure. Optional guided walking tours in the afternoon. Close Shabbat with Havdalah at the famous Yemin Moshe windmill. Then head to the remarkable Tower of David Sound and Light Show. Overnight at Inbal Hotel in Jerusalem.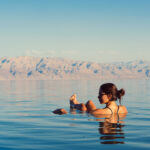 Sunday April 23 – Qumran / Masada / Dead Sea
Drive through the Judean desert to the Dead Sea. Stop at Qumran, the site where the Dead Sea scrolls were found. Continue to Masada, ascend by cable car and tour the ancient fortress, visiting the remains of the walls, palaces, synagogue, the bathhouses, etc. Descend by cable car. Float in the Dead Sea and try some skin-nourishing Dea Sea mud. Enjoy lunch and swim in the stunning Ein Gedi Springs. (Optional Ella Valley excursion for those who do not want to visit Masada and the Dead Sea.) Participate in Israeli Yom HaZikaron Ceremony. Overnight at Inbal Hotel in Jerusalem.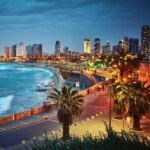 Monday April 24 – Tel Aviv / Old Jaffa
Start the day with a visit to Yad LaKashish – Lifeline for the Old, where elderly artisan find community, livelihood, and purpose creating beautiful Judaica. Then head from Jerusalem to Tel Aviv, stopping on the highway for the 11:00am 2-minute siren honoring the fallen soldiers and victims of terror remembered on Yom Hazikaron. Head to Rothschild Blvd and the Independence Hall where the establishment of the State of Israel was declared. Enjoy a culinary tour of the Carmel Market and Nahalat Binyamin, a pedestrian street mall with musicians, handmade jewelry and artifacts, and good food. Continue to Old Jaffa, an 8,000 year old port city; visit the ancient ruins and walk around the restored artist's quarter. Enjoy a Mediterranean Sunset Dinner and experience the out of this world Tel Aviv celebrations of Erev Yom HaAtzmaut! Overnight at Carlton Beachfront Hotel in Tel Aviv.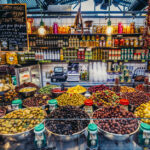 Tuesday April 25 – Tel Aviv / Ben Gurion Airport
Visit the new Anu Museum of the Jewish People, the Palamach Museum and the Sarona Market. See the main streets of Tel Aviv, center of business and entertainment of Israel. Stop at Rabin Square, place of the assassination of Prime Minister Yitzhak Rabin. Enjoy a special farewell feast before heading to the airport to return home.
—
Petra Extension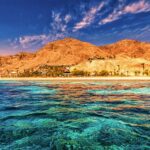 Tuesday April 25 (continued) – Eilat
Fly from Ben Gurion (TLV) to Ramon (ETM). See the Timna copper mines and King Solomon's pillars and marvel at the huge multi-colored rock formations. Continue to Eilat and stop to visit the underwater observatory, one of the largest sea-aquariums in the world, built into a coral reef. Overnight in Eilat.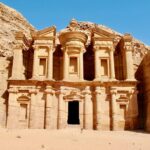 Wednesday April 26 – Petra
After assistance with visas and crossing the Jordanian Border, drive toward Petra through desert highways, stopping at Mount Haroun, Aaron's Tomb, en route. Your ultimate destination is the astonishing rose-red city of Petra which was built by the Nabateans (an early Arab Tribe). Petra was renowned for its massive architecture, pools, dams and water channels. Petra is the legacy of the Nabateans who settled in the South of Jordan more than 2,000 years ago. Enjoy a guided tour of Petra, famous for its huge monuments such as The Treasury, Royal Tombs, The Court, Roman Theatre, Roman Street, Qasser El- Bint (Palace of Pharaoh's daughter) and many other smaller monuments which fascinate the visitors. The city itself is almost 45 square km and is considered to be the second wonder of the world. Lunch, dinner, and overnight in Petra.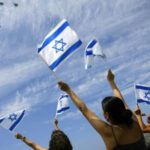 Thursday April 27 – Tuesday – Petra / Ben Gurion Airport
After breakfast and some free time to explore Petra, drive back toward Eilat, cross the border into Israel and fly from Ramon (ETM) to Ben Gurion (TLV). Then head home from Ben Gurion Airport.
—MORE INFORMATION—
Accommodations:
2 nights at Northern Region Spa – Mitzpeh Hayamim
5 nights Jerusalem stay – Inbal Hotel
1 night Tel Aviv stay – Carlton Beach Front Hotel
Petra extension: includes 1 night stay in Eilat and 1 night stay in Petra
Meals Included:
Complete Israeli breakfast daily served at all accommodations
Other meals: April 17 Welcome brunch, April 17 Mitzpe Hayamim dinner, April 18 Winery & Cheese Farm lunch, April 18 Mitzpe Hayaim dinner, April 19 kibbutz lunch, April 21 Shabbat dinner, April 22 Shabbat lunch, April 23 Dead Sea lunch, April 24 Carmel Market Tour Lunch, April 24 Mediterranean Sunset dinner, April 25 Farewell Feast
Petra Extension: all April 26-27 meals
Touring Services Included:
VIP Greeting and assistance upon arrival
Transportation services for all sites and destinations
English-speaking professional tour guide
Tour coordination services
Fees for all National Parks, Museums, Visiting Centers, etc.
Important Notes:
All passports must be valid for at least six months following your date of departure from the USA
Gratuities are not included in the quoted price. It is customary to tip guides, drivers, valets, bellhops, and other hotel and restaurant service workers
Petra Extension: Border fees of $65 per person not included