Mitzvah Projects
We are delighted that our younger congregants are working to improve our world. Here are their Mitzvah Projects:
Arielle Kutz
Hello,
For those of you who don't know, a mitzvah project is a way to celebrate your Bat Mitzvah while doing something to make an impact on the community. For my project, I have decided to raise money for an organization called the Pacific Marine Mammal Center. The PMMC is a small company in Laguna Beach that helps rescue and rehabilitate sea lions from the ocean. This place is special to my heart because my family and I have visited it several times before, and I love sea animals and the opportunity to help them.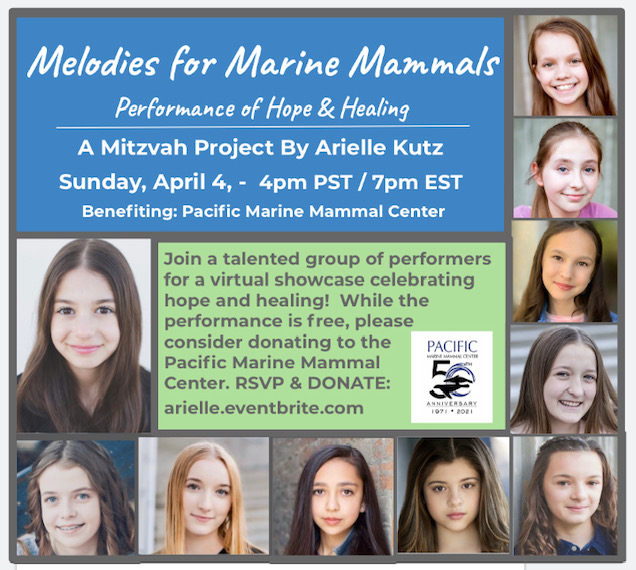 To raise money, I will be holding a free virtual performance called Melodies for Marine Mammals on Sunday, April 4th at 4pm PST/MST and 7pm EST. The performance will include me and nine of my talented musical theater friends, each performing a positive message song. My hope is that people will come and watch and then choose to donate to my fundraiser for the PMMC. Any amount is appreciated. My goal is to reach $2,000 so my funding can buy anesthesia and endoscopy medical supplies to help the sea lions.
Please visit my mitzvah project website to register for Melodies for Marine Mammals and to learn more about how you can support the Pacific Marine Mammal Center: arielle.eventbrite.com.