Mitzvah Projects
We are delighted that our younger congregants are working to improve our world. Here are their Mitzvah Projects:
Noah Golub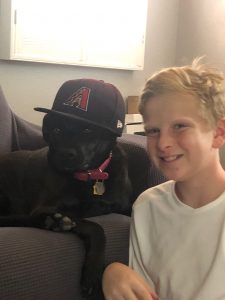 .
Noah's Mitzvah Project includes leading the Blessing of the Pets and working with both the Religious School and Kadima Youth Group to make toys and treats for animal shelters throughout the valley. He has been volunteering with Arizona Small Dog Rescue as well.
How you can Help!
Come to the Blessing of the Pets (otaz.org/BOTP)
Help Noah collect items at the Blessing of the Pets Service by bringing in items that day or prior to the Service. Items will be donated to AZ Small Dog Rescue. If you go to https://azsmalldog.org/ you will find an amazon wish list under the "Donate" tab on the top. In addition, you are welcome to make a financial contribution directly to the shelter or bring any type of Training Pads (Pee Pads) or Voyager Dog Harnesses size Extra Small – Medium as the shelter is in need of these items as well.
Learn more about Noah's projects here!